London Aquatics Centre April 2021
This time last year the British Swimming Championships were due to take place in the Olympic Pool in London with selection for places in the GB team for the 2020 Tokyo Olympics and other international events at stake. Fast forward through a year of pandemic, and in the same pool, but with a different format, British Swimming is holding the Selection Trials on 14-18 April 2021 under ongoing COVID restrictions with the focus being on senior selections for international competition later in 2021.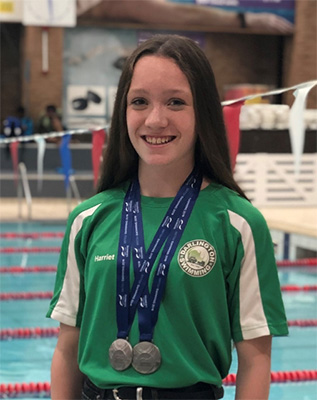 Harriet Rogers of DASC has qualified to compete in 100m Freestyle and 50m Freestyle on 17 and 18 April. Glen Fenby will be attending the Trials with Harriet, in his final gala as DASC Head Coach
Glen said, 'This is Harriet's opportunity to continue to show British Swimming that she has made the big leap to Elite Swimming. This is her first step in a busy and important swimming year, ensuring she stays in the Commonwealth Squad. I totally believe in Harriet and I know on the day she will produce her absolute best and we all wish her well in this task.
Harriet will however continue to improve over the next year and will look back on all her recent swims at Manchester and especially attending the Olympic trials in London with fond memories. Competing in the Trials is an important step to keep her on track for her dream of selection for the Commonwealth Games in 2022. To have a DASC swimmer qualify for the British Swimming Trials makes me extremely pleased and to have a swimmer with so much potential for the future makes me so proud. "Go Harriet" 😊'
Harriet is looking forward to the competition and to be swimming at the London Aquatics Centre for the first time. To be racing the top swimmers in the country is another massive challenge and experience for Harriet. With this being Glen's last gala as Head Coach, Harriet is hoping to do really well for both Glen and the Club.
There will be a third DASC member at the event. Lesley Butler, mother of Max in Top Squad, is a licensed gala official, and will be officiating each day at the Selection Trials. She was due to do so at the 2020 event and has been invited to attend this year instead. She is proud to be representing DASC and looking forward to the experience.
The heats start at 10am each day with finals in the evening at 7pm. The Entry List can be found at FINAL_Brit_Selection_Trials_2021_Programme.pdf . The event will be livestreamed on the British Swimming YouTube channel.
All at DASC wish Harriet every success at the Selection Trials.