Manchester Aquatic Centre 12-14 February 2021
The Manchester International Swim Meet did go ahead, albeit under a heavily revised format compared with usual, and limited to elite athletes as defined by the government's COVID-19 protocols.
It provided a key competition opportunity for British swimmers especially those targeting the Olympic and Paralympic Games and was attended by the likes of Adam Peaty, James Wilby, Luke Greenbank, Freya Anderson and Ellie Simmonds.
Following her selection in December to the Swim England Performance Squad, DASC swimmer, Harriet Rogers, was invited to attend and compete in four events over the 3-day meet. There were heats in the morning session and finals in the evening session each day. Here is a summary of her performances.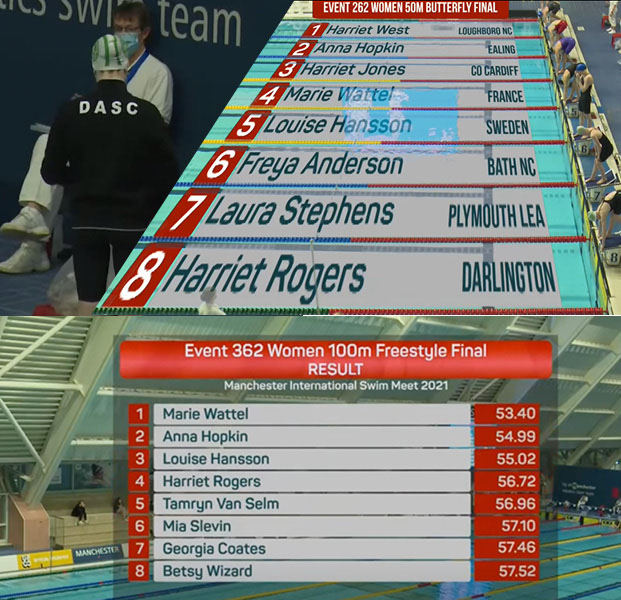 Day
Event
Heat/
Final
Previous PB
Time
Position
Fri 12 Feb
50m Back
H
30.36
30.33
7th
(Opted not to compete in final)
PB
50m Free
H
25.60
25.89
4th.
3rd fastest GB swimmer in the heats. Fastest under-20 swimmer at meet.
50m Free
F
25.60
25.92
5th.
3rd GB swimmer in final
Sat 13 Feb
50m Fly
H
27.80
27.87
9th.
7th fastest GB swimmer in the heats (Place became vacant for the final.)
PB
50m Fly
F
27.80
27.73
8th.
6th GB swimmer in final. Fastest under-20 swimmer at the meet.
PB
Sun 14 Feb
100m Free
H
57.76
57.53
6th.
4th fastest GB swimmer in the heats.
PB
100m Free
F
57.53
56.72
4th.
2nd GB swimmer in final. Fastest under-20 swimmer at the meet.
PB
During Lockdown 3 Harriet has been undertaking intensive elite swimming training run by Swim England near Northampton, involving 2.5-4.5 hours per day for up to 6 days per week. The Manchester Meet provided her with an opportunity to see what she could do in a competitive environment, as well as gaining invaluable experience racing against top-class swimmers from GB and other European countries.Harriet made the most of her chances, producing excellent performances with 4 PB times and the remainder of her swims being close to her PBs. She saved the best swim until the final final, when she swam over a second faster than her PB going into the event in the morning. Her time of 56.72 is a new NER record beating the time set by Emily Large (Newcastle Swim Team) in 2016. This is a huge stride forward at this high level and she finished as the 2nd GB swimmer in the event. Given the interruptions to training, the lack of competitive opportunities of the last 11 months, and the very strange conditions of the whole meet both in the pool, on poolside and outside the centre, Harriet's achievements at the meet were tremendous.
The transition from Junior to Senior competition is indeed a big step and the first couple of races at the weekend were notably a big adjustment for Harriet. However, as the weekend went on, she gained in confidence and produced some incredible times considering the training issues. I am extremely proud in watching a Darlington Swimmer compete at this highest of levels and she did the Club proud but, more importantly she started putting foundations down in staying in the Senior Performance Squad and in particular for Commonwealth Games selection. Well done Harriet.

Comments from Head Coach Glen Fenby
A collaborative working group including British Swimming, Manchester City Council, GLL and The City of Manchester Swim Team (COMAST) worked extremely hard on developing the most rigorous COVID protocols possible with a competition bubble, similar to the one used for the ISL in Budapest last year, implemented for four days.Everyone involved in the meet – swimmers, coaches, officials and volunteers – were required to be part of a robust testing process upon arriving at the meet hotel. They then had to confine themselves to the meet hotel, the Manchester Aquatics Centre and private transport for the duration. Face coverings and social distancing were mandatory at all times, other than when swimmers are in the water, with robust cleaning processes in place between all races. The event was held safely behind closed doors without spectators, and with only a few coaches allowed in attendance, but the meet was livestreamed.
It was unlike any other gala I have been to. There were more officials than swimmers and I was there on my own with no coach. Everyone had to sit 2m apart and masks had to be worn at all times, other than when you were swimming. It was quite a weird experience. Warm up was also very different, with staggered timings and allocated specific time slots. We were not allowed to warm up in the competition pool, instead it was a 25m pool with no access to blocks for dive practice. Due to these restrictions, I warmed up 2 hours before all of my swims which wasn't ideal. All of that aside it was so good to get the chance to race again and I know how lucky I was to be there.Overall I was pleased with how the weekend went. I was hoping to go faster in the 50 free, so I was disappointed with my time, but I was really pleased with my 100 free finishing 4th with another pb.

Comments from Harriet Rogers
Report compiled by J Teague