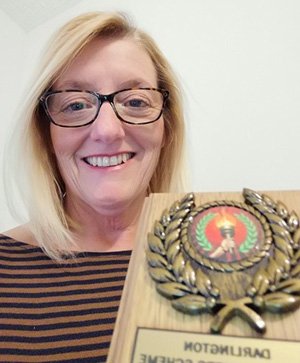 We are thrilled that Carol Bottomley, in her role as DASC COVID Liaison Officer, has been recognised for her hard work, leadership and determination enabling DASC to return to some training in 2020
Darlington Sports Winners Awards are usually made for achievement in sports by competitors, coaches and volunteers. In 2020 they were instead given to people of any age who have gone the extra mile and beyond to 'help clubs, charities, individuals within a school, home or community setting'.
As an Awards Event was not possible, the award and a letter from The Mayor was presented to Carol on her doorstep. Carol said that it was not something she would have achieved without the support of others.
For those of you who may not be aware of what has gone on behind the scenes at DASC, here is part of the nomination put forward by Dan Oliver:
In June this year after the pandemic started, Carol volunteered to be the club's Covid Liaison Officer, and has carried out the previously unknown and ever-expanding role thoroughly and calmly, working in trying and changing circumstances and under pressure. This has involved liaising with four different pool providers under varying stages of Covid restrictions, keeping up to date with changing guidance from the Government and Swim England, writing protocols, overseeing Health Screening and Risk Awareness questionnaires, training Covid Officers for each squad, planning new training programmes to cope with the restrictions, consulting with Committee Officers and other coaches, and keeping all club members informed of what is going on.
Without her attention to detail and her passion and energy to see the club's swimmers and divers given the best possible chance to return to training in a safe and worthwhile way, DASC members would not be in anything like such a good position to be ready when training can get back to normal and competitive swimming can restart, hopefully in the not-too-distant future.