The North East Regional Open Short Course (25m) Championships were held at Ponds Forge Centre, Sheffield, with four sessions over one long weekend. The pool is 50m long but was split into two 25m pools with the Regional Age Group Championships taking place in the other pool.
In the Open Championships all the events, except 800m and 1500m Freestyle, had finals in a late afternoon session following a long morning session of heats.
DASC was represented by 11 boys and 5 girls from Top Squad competing in events open to all ages and entered by many of the best swimmers from all over the North-East of England.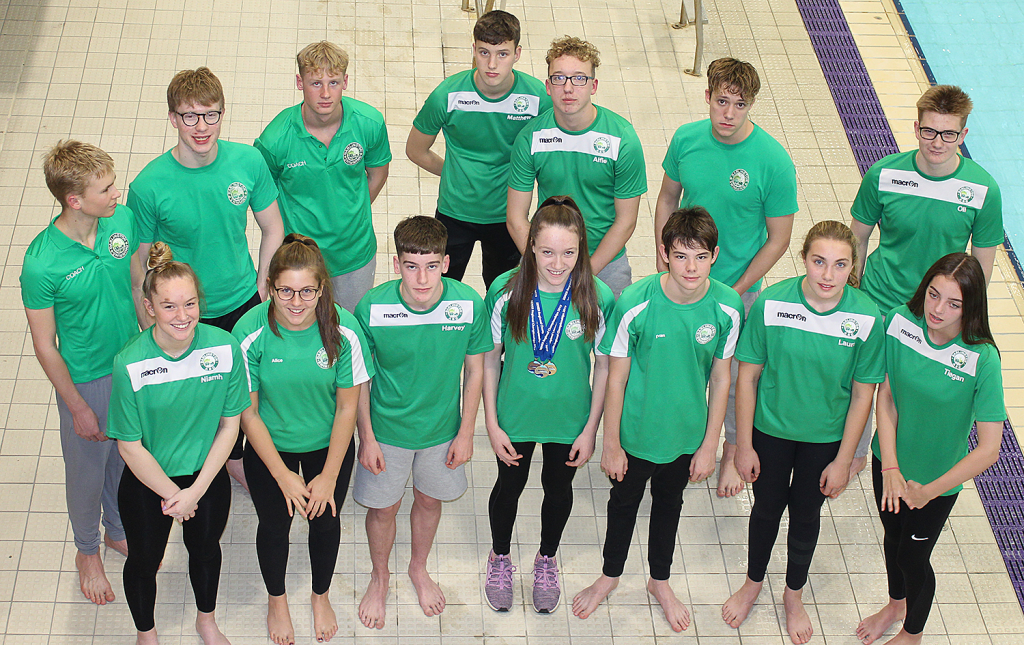 Harriet Rogers was our star performer finishing with a complete set of medals. She won the 50m Freestyle event by a massive 0.9 seconds producing a PB of 25.72 in the heats and matching it exactly in the final. To put this swim into perspective, this time is the 3rd fastest swim ever recorded by a SE female aged 15 (on 31 December) and the fastest time this year by a SE female of her age (on 31 December). In the 100m Freestyle. Harriet claimed a bronze in a PB of 57.02, faster than all but two of the DASC males swimming in this event, and a silver in 50m Butterfly with another PB of 27.96. She completed a clean sweep of PBs with further swims on 50m Backstroke and 100m Butterfly. This was a fantastic weekend for Harriet, which was noted by coaches, swimmers and spectators from all over the NE and beyond.
Will Beukenholdt produced several fine swims to qualify for the finals of 100m Freestyle with a PB of 53.43 and of 50m Breaststroke, but withdrew from both of these to focus his efforts on the 100m IM where he hoped to win a medal. Unfortunately, he was disqualified in the heats of the event and was unable to contend in the final for a medal. Alfie Elliott clocked up another PB on 200m Butterfly, qualifying for the final.
Harrison Butler had an almost perfect weekend with a super set of 5 PBs, with a disqualification in 100m Butterfly only slightly taking the edge off it. Harvey Matthias was also on very good form with 4 PB swims and placing higher in some of his events than several of his older Top Squad peers.Jack Hurworth swam excellent PBs in three sprint events and went under 2 minutes for 200m Free for the second time. Johnson Bache was the busiest DASC swimmer competing in 8 events over the weekend including 3 PBs despite being under the weather. James McLeary, adapting to the swimming season of the Northern Hemisphere, and the considerable step up from age group to open swimming, can be pleased with his 4 PB swims in Breaststroke and IM events. Oliver Carr also put in some excellent sprint Freestyle performances, Dan Boyer improved on his best times on 50m and 200m Backstroke, Jacob Willson swam his best ever 50m Butterfly and Evan Reeves continued to chip away at his 200m Butterfly time.
Laura Burgess competed in both the Age Group and Open Championships over the weekend producing consistently good times in both on the sprint Freestyle events. Niamh Sweeney, returning to competing after a break, should be encouraged by her 2 PBs. Tiegan Flynn gained valuable experience at this level with 2 good sprint events. Alice Day competed in the Distance Freestyle events.
'It was very encouraging to see so many Top Squad Swimmers qualify for the NER Short Course Championships and even more pleasing to see them achieve further PBs in heats and finals throughout the weekend especially at this stage of the season. We are right on track to having one of our best seasons ever and our focus now turns to The Scottish Nationals in December.'

Comments from DASC Head Coach, Glen Fenby