Format of Championships
The N&D Championships (aka 'N&Ds') were held over two weekends in February in the 50m pool at Sunderland Aquatic Centre.
Medals were awarded for 10&11 years, 12, 13, 14, 15 and 16&Over agegroups with age determined as at 31 December 2022. There were heats and finals in the same session for all events except those of 400m or longer and the 200m events for 10&11 years which were Heat Declared Winner (HDW) events. The fastest 10 swimmers qualified to compete in the finals
In several agegroups and/or events, there were 10 or fewer competitors in total, which rendered the heats somewhat redundant, but swimmers still had to participate in them in order to qualify for the final.
DASC Summary of Qualifiers and Results
Swimmers have to achieve qualifying times to be eligible to compete. From DASC there were 10 girls and 13 boys who achieved a total of 123 qualifying times between them. Of these, 9 of the girls, plus our Para swimmer, and 9 of the boys competed in a total of 88 events.
DASC swimmers won a total of 6 Golds, 2 Silvers and 6 Bronzes, and 2 medals for our Para swimmer, as well as a further 17 Top 10 placings.
Overall, out of 32 participating clubs, DASC came 9th in the Medal Table (based on number of golds), 11th in the Agegroup (10-14 years) Points totals (for Top 10 placings) and 13th in the Open (15, 16&Over) Points totals.
There were about 65 long course PB swims recorded in the events. This includes some swimming events for the first-time long course, but doesn't include counting double for several swimmers who swam a PB time in the heats, and then swam even faster in the final. This is an excellent proportion of PB times.
The DASC Medallists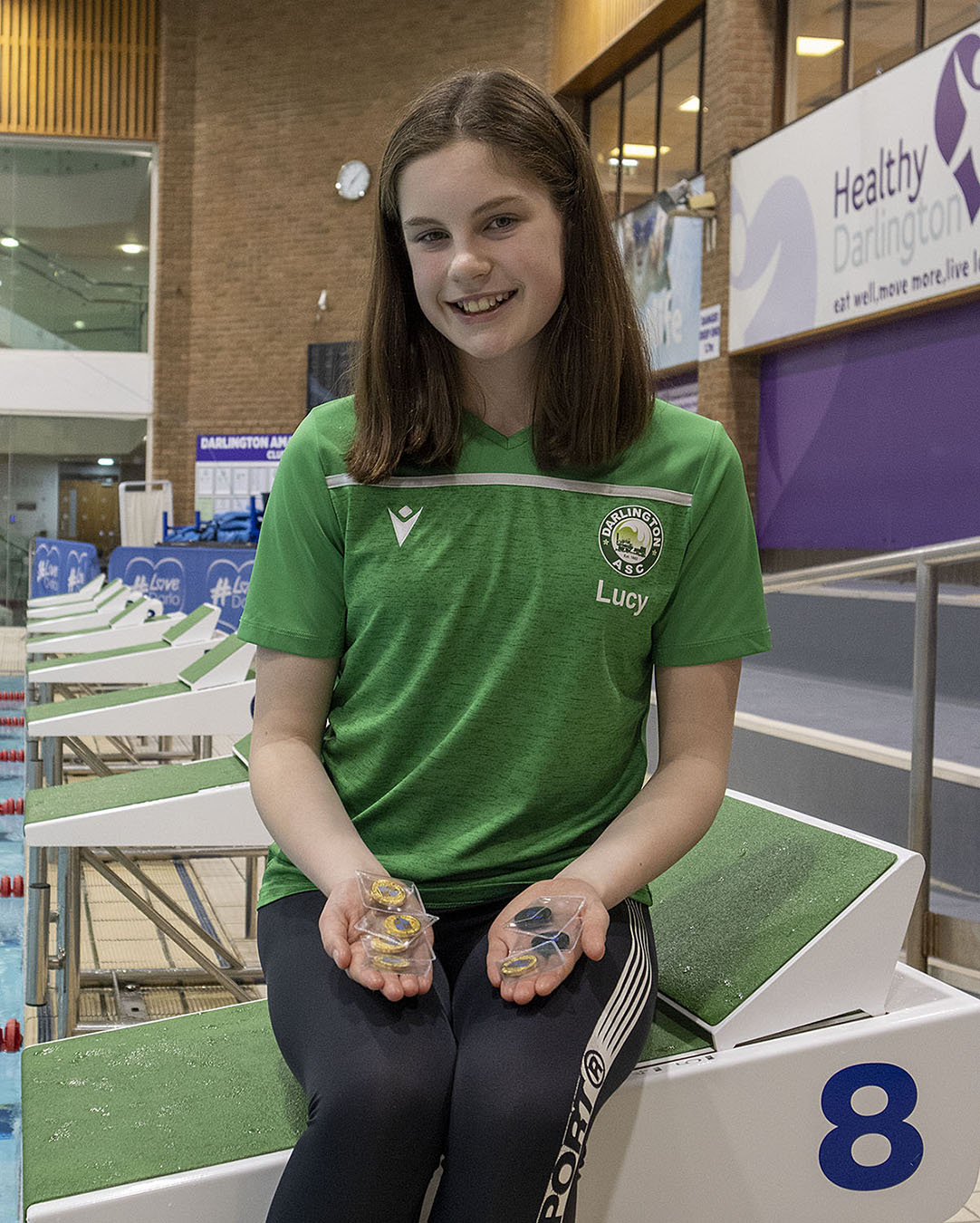 Our outstanding swimmer was Lucy Oliver who dominated the 13 years age group winning 5 Golds in 50m, 100m, 200m and 400m Freestyle and 100m Butterfly, 2 Bronzes in 800m Freestyle and 200m Individual Medley, 4th places on 50m Butterfly and 100m Backstroke and a 5th place on 50m Backstroke. This demonstrates what a versatile swimmer she is, and also how physically fit and mentally tough she is. She recorded PBs in 8 out of 10 of her events. The time for 100m Butterfly currently places her as the 2nd fastest 13-year-old in the country on that event, and her winning Freestyle times put her in 7th, 5th, 8th and 8th spots respectively on Rankings.
Harry Whitfield (12) is improving rapidly and came away with Silvers on 200m and 400m Freestyle, Bronzes on 100m Freestyle and 50m Butterfly, and a 5th place on 50m Freestyle with PBs in 5 of his 6 events. This is a big step-up in performance level compared to his N&D debut in 2020.
It was great to see the Breaststroke specialist Niamh Kay becoming N&D Champion in the 15 years 50m Breaststroke. She also got a Bronze on 100m and a 6th place on 200m, clocking up PBs in all 4 of the events she swam.
Laura Burgess sprinted her way to a Bronze medal in the 16&Over 50m Freestyle with an excellent 27.51, and 3 other PB times in her 7 events.Josie Johnson (13 and classified as S8 and SB8) won a Para-Gold on 50m Breaststroke and a Silver on 50m Freestyle.
Top Ten Placings
Other DASC swimmers to finish in the Top 10 in their events were:
Lewis Kestle (15) 50m Butterfly 7th
100m Backstroke 8th
200m Backstroke 10th
100m Butterfly 10th
Ruby Diment (15) 100m Backstroke 6th
50m Backstroke 7th
100m Butterfly 9th
Zara Jones (14) 50m Backstroke 10th
100m Backstroke 9th
Emma Carter (14) 50m Breaststroke 8th
April Mansfield (12) 50m Freestyle 5th
Sebastien Mason (11)100m Butterfly 4th
Zara, April and Sebastien were all competing in their first N&D Championships, and will have gained valuable experience by competing at this level.
Ruby and Lewis had busy weekends, competing in 10 and 7 events respectively.
Other DASC Representatives
Several more Senior DASC swimmers competed again at N&D level in the competitive 16&Over group – James McLeary in 9 events with 5 PBs set, Max Butler in 5 events with a PB in each of them, Emily Burrell with 4 PBs from 5 swims and Richard Murray.
Hugo Douglas-Reeves (14) swam in all 3 Breaststroke events, gaining PBs and narrowly missing qualifying for the final in each of them. In the same agegroup, Ben Matthias, swam PB times in 50m Freestyle and Backstroke events.
Two more 14-year-old DASC swimmers achieved N&D qualifying times for the first time in their swimming careers and benefitted from stepping up to this level – Chiara Valgolio in 3 events with good PBs in all of them and Kian Woodwith a great PB in 50m Freestyle breaking the 30 second mark for the first time.
DASC Head Coach, Lucy Proctor said, "We were all excited to get back to N&D's after 2 years! The results over the two weekends have been excellent, our swimmers represented themselves and DASC so well. Finishing 9th in the overall medal table is an outstanding achievement for our club."
Report compiled by Jane Teague 8th March 2022