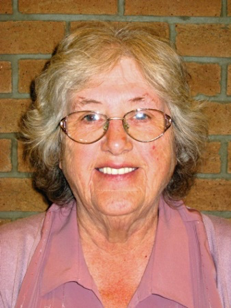 It is with sadness that DASC has learnt of the recent death of Anne Robinson.
Anne served DASC as a very hard-working, dedicated and willing volunteer in various roles for at least 20 years. For much of that time and until April 2013, she was the club's Treasurer and a member of the DASC Committee. She was heavily involved in the organisation of many DASC galas, both internal club galas and the high-level Darlington Open Meet, which was the forerunner of the Dander Meet. She manned the Club Desk almost every week. She also helped Di Pallister to organise and run Schools Swimming galas in the region.
Anne lived in Darlington her whole life. She had two girls, Joanne and Julie, who swam at DASC in the 80s(?).Because of their involvement in the club, Anne volunteered to help and gradually took on more and more roles. She loved to talk with other swimming parents at training and at galas that she took her children to, and was known widely in swimming circles throughout the area, often offering to help other clubs with their galas. She enjoyed making an input wherever and however she could, and took an active interest in the progress of many swimmers. The young swimmers and divers of DASC benefitted hugely over many years from having Anne at its heart for so long.
In the 1990s Steve Jackson coached a relative of Anne's to dive to a good level. Her grandson Michael Robinson also joined DASC and was a very promising young swimmer during the 2000s specialising in Butterfly and Freestyle; he still holds 5 of our club gala records mostly in the 11&12 years age group. Anne delighted in his success.
As Anne's health deteriorated, she reluctantly relinquished her various roles within the club, but became the DASC President, and enjoyed visiting the club's galas on a few occasions, and being kept informed of how the club was progressing.
DASC sends its condolences to Anne's family at this sad time.